"Trends With Benefits" Web Extra
Related Episode
The Planet Money team created a web version of our episode "Trends With Benefits."
Related Episodes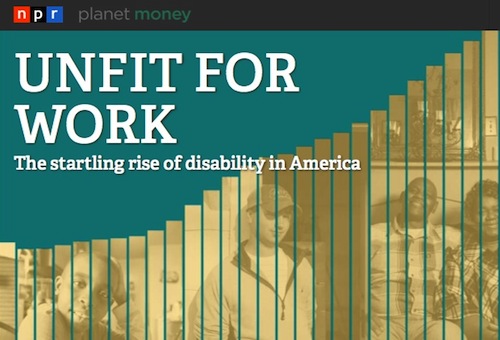 By Chana Joffe-Walt
In the past three decades, the number of Americans who are on disability has skyrocketed. The rise has come even as medical advances have allowed many more people to remain on the job and new laws have banned workplace discrimination against the disabled. Every month, 14 million people now get a disability check from the government.
The federal government spends more money each year on cash payments for disabled former workers than it spends on food stamps and welfare combined. Yet people relying on disability payments are often overlooked in discussions of the social safety net. People on federal disability do not work. Yet, because they are not technically part of the labor force, they are not counted among the unemployed.
In other words, people on disability don't show up in any of the places we usually look to see how the economy is doing. But the story of these programs — who goes on them, and why, and what happens after that — is, to a large extent, the story of the U.S. economy. It's the story not only of an aging workforce, but also of a hidden, increasingly expensive safety net.
For the last six months, I've been reporting on the growth of federal disability programs. I've been trying to understand what disability means for American workers, and, more broadly, what it means for poor people in America nearly 20 years after we ended welfare as we knew it.
Chana's story - including video, startling graphs, and photos of interviewees — continues on the Planet Money website.